Company Overview
RCM Investments is an SEC-registered investment advisory firm providing wealth management services to individuals and institutions across the nation. RCM specializes in the construction and management of customized investment portfolios. Trust and transparency are the two core principles that distinguish our company from other investment firms.
---
Our investment services focus on the design and management of investment portfolios matched to the return objectives and risk tolerance of our clients. Emphasis is placed on broad diversification within asset classes, on-going analysis of investments, and minimization of taxes and transaction costs.
At RCM, we recognize our clients represent our most valuable asset, and maintaining healthy relationships is paramount to our continued success. We believe many of our clients find comfort in our approach and we strive to continuously search for the best investment options.
Our Portfolio Managers and Investment Advisors are well versed in various investment products and portfolio management methodologies. Our experience provides you with the comfort of having the right advice and investment strategy from the beginning.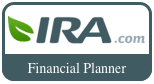 Certified Financial Planners for IRA.com


Certified Financial Planners for WiserAdvisor.com